| | |
| --- | --- |
| | |
---
Posted: 24 Sep 2011 05:32 AM PDT
Credit rating agency Moody's Corporation has downgraded the debt ratings of the big three US banks, Bank of America, Wells Fargo and Citigroup, reminding Americans once again that the country's economy is headed in the wrong direction.
Obamacare HHS rule would give government everybody's health records
Posted: 24 Sep 2011 04:11 AM PDT
It's been said a thousand times: Congress had to pass President Obama's  health care law in order to find out what's in it. But, despite the repetitiveness, the level of shock from each new discovery never seems to recede.
'US military mindset produces monsters'
Posted: 24 Sep 2011 03:52 AM PDT
An analyst believes the actions of the US "kill team" charged with murdering Afghan civilians for sport is not isolated, but part of a systemic military mindset.
'US military mindset produces monsters'
Posted: 24 Sep 2011 03:52 AM PDT
An analyst believes the actions of the US "kill team" charged with murdering Afghan civilians for sport is not isolated, but part of a systemic military mindset.
Posted: 24 Sep 2011 03:48 AM PDT
Transcript and sources: Everything you ever wanted to know about the 9/11 conspiracy theory in under 5 minutes.
'Negotiations were going nowhere'
Posted: 24 Sep 2011 02:37 AM PDT
Taking the cause of Palestinian to the UN was an important move to make, because the so called peace negotiation was going absolutely nowhere the Vice Chair of Palestine Solidarity Campaign said.
Netanyahu on the attack in UN speech
Posted: 23 Sep 2011 11:53 PM PDT
Whether Palestine becomes a member state of the UN or not is likely to have no change to the attitudes and aggressions by Israel in the region.
Posted: 23 Sep 2011 10:55 PM PDT
The Dow had its worst week since 2008.
7/7 In Perspective - Tom Secker on GRTV
Posted: 23 Sep 2011 06:12 PM PDT
SUBSCRIBE TO THE PODCAST: This week GRTV talks to Tom Secker, the documentary filmmaker behind the newly released 7/7: Crime and Prejudice, which is available for viewing on GRTV.ca: In this wide-ranging discussion, we examine inconsistencies in the police investigation of the alleged terrorist bombings in London on July 7, 2005, and interrogate the way the memes and ideas about suicide bombings have echoed down through the decades to implant "War on Terror" narratives in our own age.
Conservatives Worry That Runaway Inequality Will Destroy The Economy and Society
Posted: 23 Sep 2011 05:54 PM PDT
Leading economists agree that rampant inequality leads to unstable economies and depressions, and makes the middle and lower classes poorer.
French Jew: 'See my Shoah Sherlockholmised'
Posted: 23 Sep 2011 05:09 PM PDT
The US and EU ambassadors staged a walk-out during Iranian President Dr. Ahmadinejad's speech blaming him 'anti-West' because he denies Holocaust (six million Jewish count). What Ahmadinejad said that since it were Germans who carried out the Holocaust, why Palestinians are made to pay for the crime they never committed.
Populist Economic Knowledge and American National Credit
Posted: 23 Sep 2011 04:27 PM PDT
The laws are changed so that all money is bank credit (loans) -- whether the reserves are fiat or metallic is irrelevant.
The borrowing businesses and households must experience deflation insofar as the total flow of loans that they use for money is less than the total flow of principal and compound interest that must be paid to the lender.
Petition To Abolish The TSA Appears On White House Website
Posted: 23 Sep 2011 02:45 PM PDT
A petition to abolish the TSA has appeared on the White House.gov website, with the massive response evidence of how infuriated Americans have become at being groped not only at airport, but also highways, sports stadiums and at other public venues.

The petition appears on the "We The People" section of WhiteHouse.gov, a new feature intended to be "a new, easy way for Americans to make their voice heard in our government."
Infowars Nightly News: Mountain Guardian, Cancer in the Vaccines, and CIA 9/11 Lies
Posted: 23 Sep 2011 02:21 PM PDT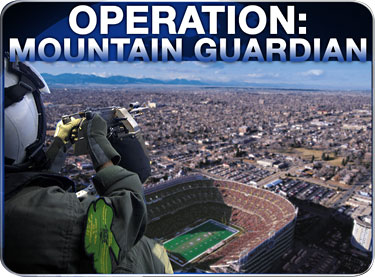 Tonight, on the Friday edition of Infowars Nightly News, Alex covers in detail Operation Mountain Guardian, the Homeland Security funded and orchestrated martial law exercise under cover of preparedness for a terrorist event. Infowars.com correspondents Darrin McBreen and Aaron Dykes covered the exercise from the Mile High City, Denver, Colorado, earlier today.
Maryland MVA Trials In-Car Spy System
Posted: 23 Sep 2011 01:15 PM PDT
Project a collaboration with DHS-linked government entity
Mountain Guardian Exercise Takes School Children to Sports Stadium
Posted: 23 Sep 2011 01:15 PM PDT
Infowars.com reporter Darrin McBreen reported today outside Denver's Mile High Stadium that the facility would be used for "processing activities," according to a handout.
US caves in to China over Taiwan?
Posted: 23 Sep 2011 12:33 PM PDT
China has flexed its muscle forcing the US to change its arms sales contracts with Taiwan downgrading them. This has drawn criticism from Taiwan.
Posted: 23 Sep 2011 12:12 PM PDT
The Reaper was not formally invited to the United Nations General Assembly annual bash in New York.
This crisis requires some imagination
Posted: 23 Sep 2011 12:04 PM PDT
Greedy banks, bad economic ideas, incompetent politicians: There is no shortage of culprits for the economic crisis in which rich countries are engulfed. But there is also something more fundamental at play, a flaw that lies deeper than the responsibility of individual decision-makers. Democracies are notoriously bad at producing credible bargains that require political commitments over the medium term. In both the United States and Europe, the costs of of this constraint on policy has amplified the crisis - and obscured the way out.
'Saudis afraid of Yemen's revolution'
Posted: 23 Sep 2011 11:44 AM PDT
In Yemen, seven people were killed in a fresh round of violence in the capital of Sana'a, as clashes broke out between protesters and forces loyal to Ali Abdullah Saleh.
Israeli Rejectionism – Book Review
Posted: 23 Sep 2011 11:41 AM PDT
(Zalman Amit/Daphna Levit, Israeli Rejectionism. A Hidden Agenda in the Middle East Peace Process, Pluto, London-New York, pp 208.)
Full Official Text of President Mahmoud Abbas' Speech at the UNGA
Posted: 23 Sep 2011 11:20 AM PDT
New York - September, 23 2011
'Third Intifada' fears amid violence on Israel-Palestine clash frontline
Posted: 23 Sep 2011 11:18 AM PDT
As Mahmoud Abbas addressed the UN General Assembly, tensions continued on the Palestinian-Israeli border.
Abbas submits Palestine statehood bid, gets standing ovation at UN
Posted: 23 Sep 2011 10:51 AM PDT
Palestinian leader Mahmoud Abbas got a standing ovation while addressing the UN General Assembly - shortly after submitting the bid for full statehood to the UN chief.
Obama's Speech, Abu Mazen's Gamble
Posted: 23 Sep 2011 10:50 AM PDT
A wonderful speech. A beautiful speech.
Posted: 23 Sep 2011 10:24 AM PDT
Iran's President, Mahmoud Ahmadinejad has criticized the structure of the United Nations as well as the composition of the Security Council in his speech at the United Nations.
PSYWAR: The Fake Fall Of Tripoli Part II
Posted: 23 Sep 2011 09:55 AM PDT
In the first part of this series, the malignant Zionist propaganda surrounding the fall of Tripoli was picked apart, piece by piece, exposing the destructive, genocidal, brute force of NATO and its crimes against humanity on Libyan soil. This part, the series finale, will deal with the latest horror inflicted upon the occupied Gaza Strip, holy Al-Quds and occupied Al-Khalil as a result of Zionist intelligence shenanigans in the Egyptian Sinai. It will conclude on the world scale, where an Orwellian "utopia" is hoped to be erected on the ruins of Zionism's greatest enemies…
Fox Sends to Memory Hole Another Ron Paul Poll Win
Posted: 23 Sep 2011 09:54 AM PDT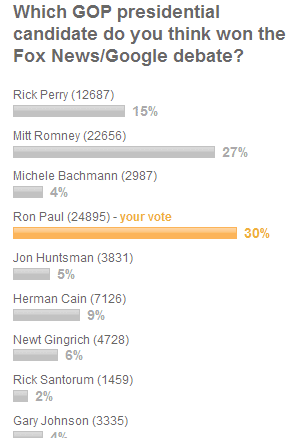 Fox News has either removed or shuffled off to a distant web page the results of an online GOP presidential candidate poll.
Like most other polls, Ron Paul won this one hands-down, and that's why Fox News got rid of it.
Posted: 23 Sep 2011 09:52 AM PDT
Ynet's Washington reporter, Yitzhak Ben – Horin, produced last night a clear and succinct reading of Obama's recent UN General Assembly  address:
Straight Talk on Jews and 9/11
Posted: 23 Sep 2011 09:45 AM PDT
Only in the last 5 or 6 years has the general public had access to hard evidence that 9/11 never involved hijackers or Muslims.  
'UN rubber stamp for western hegemony'
Posted: 23 Sep 2011 09:15 AM PDT
Iran's President Mahmoud Ahmadinejad has criticized the West for weakening countries through military intervention and destroying their infrastructures, in order to plunder their resources.
Iran to send 2nd aid convoy to Pakistan
Posted: 23 Sep 2011 09:07 AM PDT
An official with Iran's Red Crescent Society (IRCS) says the country is set to send its second shipment of humanitarian aid to flood-stricken Pakistan.
Israeli Judeofascist Lieberman's pro-terrorism threats against Turkey likely emboldened recent terrorist attacks there
Posted: 23 Sep 2011 08:56 AM PDT
Following up with their claim of responsibility for the recent bombing attacks in Ankara and Kemer, the Kurdistan Workers Party (PKK) wing the Kurdistan Freedom Falcons (TAK) is now threatening to launch additional attacks against Turkish targets.
Has the AU done too little, too late?
Posted: 23 Sep 2011 08:54 AM PDT
In a year when the world's attention to global affairs has significantly focused on the African continent - from the Ivorian crisis, to the Arab Spring and the Horn of Africa's drought - the African Union has played a less than dismal role.
Syrian Foreign Minister Forced to Flee Hotel in Vienna, Video
Posted: 23 Sep 2011 08:53 AM PDT
Yesterday Thursday Sep. 23 2011, Syrian Protesters forced Syrian Foreign Minister Walid Al-Muallem to flee from the Hotel Intercontinental in Vienna hour of his arrival late night to the Austrian capital.
Dozens of demonstrators called the Austrian intelligence and police demanding the arrest of minister Al-Muallem, who is one among 30 Syrian officials who are forbidden to enter the EU by a European Union resolution. The Syrian protesters gathered in- and outside of the hotel before the arrival of the police. They worked hard to make him flee his hotel like a thief, under hurtful insults and chants.
Iran sends biggest aid convoy to Somalia
Posted: 23 Sep 2011 08:30 AM PDT
The Iranian Red Crescent Society's (IRCS) biggest aid convoy for the drought-stricken people of Somalia is expected to arrive in the country next week.
Financial Flashback: What Max Keiser predicted in 2007
Posted: 23 Sep 2011 08:15 AM PDT
Watch the full Keiser Report E188 on Saturday. This week Max Keiser and co-host, Stacy Herbert, discuss cultural fragging and financial flashbacks. They also discuss Papandreou's high frequency austerity measures for Greece. In the second half of the show Max talks to Ned Naylor-Leyland of Cheviot Asset Management about the latest developments in the silver manipulation case against JP Morgan. KR on FB: www.facebook.com
Jews at US Colleges and Universities
Posted: 23 Sep 2011 08:07 AM PDT
Reform Judaism has posted a chart listing the top 60 colleges and universities attended by Jews. See here. Six of the 8 Ivy League universities are included, with Jewish enrollments of around 25% of the total undergraduates.
BRICS plan to revive the global economy
Posted: 23 Sep 2011 08:06 AM PDT
We interrupt this programme to announce the end of two centuries of Western domination.
Analysis: what was so objectionable about Ahmadinejad's speech?
Posted: 23 Sep 2011 07:52 AM PDT
It is clear that Ahmadinejad's address to the 66th Session of the United States General Assembly was not well met. That is a bit of an understatement, as the entirety of the United States delegation, along with Israel and EU nations, totaling over 30 countries, walked out in the middle of his speech.
Amerithrax 10 Years On - Eyeopener Preview
Posted: 23 Sep 2011 07:52 AM PDT
CONTINUE WATCHING THIS REPORT: Transcript and sources: Earlier this month, the public was overwhelmed with saturation coverage of the 10th anniversary of the 9/11 attacks. What is not being reported on with anything near the same zeal, however, is that this September 18th marked another solemn milestone, the 10th anniversary of the start of the anthrax attacks that paralyzed an already fear-stricken nation and actually shut down the US House of Representatives, three Senate buildings, and the Supreme Court. That the government and the media are largely silent on this anniversary is hardly surprising. Rather than reinforcing the war on terror narrative, the anthrax investigation leads directly back to the heart of the US military-industrial complex, and a secretive biowarfare program that most Americans never knew existed. This is our Eyeopener Report by James Corbett on facts, issues, questions, and real implications of the Anthrax attacks, which remain almost unmentioned in the war on terror narrative, and absent from the mainstream and pseudo alternative media on the 10th anniversary of these events.
Why Palestinians have a right to return home
Posted: 23 Sep 2011 07:45 AM PDT
Syria: The revolution will be weaponised
Posted: 23 Sep 2011 07:36 AM PDT

RT reporter caught in chaos as clashes erupt on Israel-Palestine border
Posted: 23 Sep 2011 07:20 AM PDT
For latest updates, follow RT on twitter.com and www.facebook.com Anticipation is building among Palestinians ahead of a formal request for UN recognition expected to be submitted later on Friday. That's despite a US promise to veto it - and reports that the Security Council won't hold a vote on the issue for some time. Clashes errupted at one of the checkpoints at Palestinian-Israeli border - RT's Paula Slier is at the scene of the unrest ...
Posted: 23 Sep 2011 07:06 AM PDT
Can the US continue to support the Saleh regime? If it can't, does it give free rein to Al-Qaeda? Should NATO consider another no-fly zone? And are we already witnessing a civil war in Yemen? CrossTalking with Mohamed Qubaty, Ambassador Newton and John Rees. CT on FB: www.facebook.com
Martial Law Drill Commences as Economy Begins Descent
Posted: 23 Sep 2011 06:38 AM PDT
A massive terror drill – remarkably ignored by all but local media – is now underway in Denver, Colorado.
Posted: 23 Sep 2011 06:24 AM PDT
In his Wednesday address before world leaders at the General Assembly, US President Barack Obama once again revealed a blatant duplicity in the country's foreign policies by declaring opposition to the Palestinian bid for statehood on the one hand and going into raptures over the democratic aspirations reflected in the popular uprisings in the Middle Eastern and African countries on the other.
Max Keiser: Expect new crashes unless #occupywallstreet demands met!
Posted: 23 Sep 2011 06:08 AM PDT
Fears have increased over a second wave of worldwide economic recession, as Asian markets opened with a slump, after an arduous session on Wall Street. It's the second straight day of bad trading, after Thursday's global markets had their worst drop for a month. Max Kaiser, host of 'The Keiser Report', says banks are to blame... Keiser Report on FB: www.facebook.com
Canada: 'Even our oil has ethics'
Posted: 23 Sep 2011 05:31 AM PDT
Infowars Covers Operation Mountain Garden
Posted: 23 Sep 2011 05:29 AM PDT
Infowars.com correspondents Darrin McBreen and Aaron Dykes are on the ground in Denver, Colorado, covering a massive martial law take-over drill now underway.
Infowars Covers Operation Mountain Guardian
Posted: 23 Sep 2011 05:29 AM PDT
Editor's note: The latest videos are located at the bottom of this post.
The reracialisation of South African politics
Posted: 23 Sep 2011 05:00 AM PDT
The relatively peaceful nature of the political transition in South Africa has been variously ascribed to the greatness of the political leaders of the two principled political formations, the African National Congress' Nelson Mandela and FW De Klerk, the leader of the apartheid National Party. While Nobel Peace Prizes are awarded to great men such as Mandela and De Klerk, the real motive force behind the peaceful transition, and the absence of a race war in South Africa, was the African National Congress.
India: Ladakh Awaiting Attention
Posted: 23 Sep 2011 04:34 AM PDT
While referring to Indian occupied Kashmir (IOK), the first thing which comes to mind is the renowned Kashmir valley and Jammu district. Kashmir valley and Jammu district collectively constitute about 30% of IOK land, whereas rest of the 70% territory of IOK goes unnoticed. This vast territory is known as Ladakh. Ladakh comprises of two districts, Leh and Kargil. Leh is a Buddhist majority district with 80% Buddhist while Kargil is predominantly Muslim district with 85% Muslims. Ladakh in more then one ways is unique as compared to the rest of Indian Occupied Kashmir. Contrary to its immense territory, it constitutes just 2.5% of the over all population of IOK. Another unique feature of Ladakh is that its population is very much evenly distributed among Muslims and Buddhists. Muslims comprise roughly about 52% of the total population while and Buddhists are about 44%, and Hindus about 5% with 1% followers of other religions.
Armed Troops Burn Down Homes, Kill Children To Evict Ugandans In Name Of Global Warming
Posted: 23 Sep 2011 04:30 AM PDT
Neo-colonial land grabs carried out on behalf of World Bank-backed British company
Is Israel now the unofficial 51st State of the United States of America?
Posted: 23 Sep 2011 04:05 AM PDT
President Barack Obama has done us all a favour with his speech to the United Nations; rarely, if ever, has a US president made it so obvious what many of us started to believe years ago, namely that Israel is now the unofficial 51st State of the USA.
For Latvia, it's time to form a new coalition
Posted: 23 Sep 2011 03:59 AM PDT
The timing for Latvia's parliamentary elections this past Saturday was unfortunate for many. Drastic austerity measures and unpopular government policies did not provide the electorate with an optimal choice. In addition, the complicated social-economic situation made the elections' results somewhat unpredictable.
'Gimmicks at heart of West politics'
Posted: 23 Sep 2011 02:41 AM PDT
Iran's President Mahmoud Ahmadinejad has launched an outspoken attack on the world's bullying powers for taking the liberty of infringing on the rights of other nations.
Palestine and "Our Sacred Honor"
Posted: 23 Sep 2011 02:37 AM PDT
"And for the support of this declaration, with a firm reliance on the protection of Divine Providence, we mutually pledge to each other our lives, our fortunes and our sacred honor. But since we are a bunch of pussies when it comes to Israeli control of our political system, our honor isn't really all that fucking sacred. We are hypocrites and cowards and we have willingly become the laughingstock of the entire planet."
Posted: 23 Sep 2011 02:35 AM PDT
Sun Tzu wrote The Art of War 2,500 years ago. Because China declared war on American and London banks you might want to read the most revered Chinese writer on military strategies to understand what is coming next.
Wings of Death: US builds global drone base net
Posted: 23 Sep 2011 02:29 AM PDT
Relations between the US and Pakistan have hit a new low, after a top American military chief accused Pakistan's Intelligence service of supporting a group behind last week's attack on the American Embassy in Kabul. Islamabad has strongly denied the claims. One of the stumbling blocks in US- Pakistan relations is that American drone attacks on al-Qaeda operatives on Pakistani territory continually resulted in civilian deaths. However, the US military considers them so effective that it is building a number of new drone bases in Horn of Africa and the Arabian peninsula. But as RT's Gayane Chichakyan reports, this policy has caught America in a vicious circle.
World, Meet Recession: Grim US forecast plants panic
Posted: 23 Sep 2011 01:42 AM PDT
Asian markets have opened with a slump on Friday, following an arduous session on Wall Street. It's the second straight day of bad trading, after Thursday's global markets had their worst drop in a month. That prompted the financial leaders of the G20 group of major economies to issue a statement saying they will take strong action to counter the debt crisis. Combined with a series of grave warnings from the US Federal Reserve and the International Monetary Fund, this sparked concern of a double dip recession being just around the corner. And its arrival is inevitable, says Patrick Young, who's the executive director of the investment advisory firm DV advisors.
Resuming Peace Process Hypocrisy to Subvert Palestinian Statehood
Posted: 23 Sep 2011 12:51 AM PDT
On September 20, London Guardian writer Chris McGreal headlined, "Palestinian statehood: plan emerges to avoid UN showdown," saying:
UN Floor Show: 'Iran's leader knows how to rule media'
Posted: 23 Sep 2011 12:36 AM PDT
Events at the UN gathering in New York have once again been heated up by the speech of the Iranian President Mahmoud Ahmadinejad. The US, France and other western delegations walked out of the assembly as a sign of protest at his claims. Richard Grenell, former US spokesman at the UN says nothing affects Iranian leader.
Is the Window Closing on Israel?
Posted: 23 Sep 2011 12:00 AM PDT
In June 1967, with ex-Vice President Richard Nixon, this writer toured an Israeli military hospital full of wounded Egyptian soldiers.
Bam's Government Loans to Nowhere Bill
Posted: 23 Sep 2011 12:00 AM PDT
President Obama still hasn't learned the classic First Rule of Holes: When you're in one, stop digging. Up to his earlobes in failed stimulus grants and tainted federal loan guarantees, the shoveler in chief tunneled forward this week on his latest Government Loans to Nowhere bill. His willful ignorance is America's abyss.
Little noticed in the White House jobs-for-cronies proposal is a provision creating yet another corruption-friendly "government corporation" that would dole out public infrastructure loans and loan guarantees.
Quantum Note: The Roots of Muslim Rage-I
Posted: 22 Sep 2011 07:54 PM PDT
The Muslim world is soaking in blood: from Yemen to Afghanistan, there is hardly a country where violence, oppression, inequality, man-made disasters and meaningless deaths are not the order of the day. Dreadful, draconian, and brutal regimes dominate the political scene. There is hardly a country where one can breathe freely. Economic poverty, hunger, disease, lack of adequate civic structures, malnutrition, illiteracy, and belittling social structures exist everywhere. Ruthless men rule hapless polities with iron fists. These discredited and despised rulers pay no attention to human suffering; all that matters to them is the prolonging of their rule, which gives them unlimited perks and allow them kingly lives. There is no concern for what is called human rights in the West, what to talk about the higher level of concern a ruler is supposed to have for his people in Islamic legal, moral and ethical system. All of this is common knowledge. But when one asks, "why", common as well as uncommon knowledge dissolves in thin air, leaving behind speculations, conjunctures, short-sighted answers, which mean nothing in reality.
Posted: 22 Sep 2011 06:10 PM PDT
Though the World War II victors promised that the Nuremberg principles would apply not just to the Nazis but to everyone, today's reality is that international law follows two standards: a lenient one for the West and its friends and a stringent variant for adversaries. This hypocrisy is now being institutionalized, Lawrence Davidson notes.
Statement by Mahmoud Ahmadinejad at the 66th UN General Assembly
Posted: 22 Sep 2011 02:45 PM PDT
Mr. President,
Excellencies,
Ladies and Gentlemen,
Secrecy Kills, #OccupyWallStreet, Milk War
Posted: 22 Sep 2011 01:56 PM PDT
Welcome back to NewWorldNextWeek.com - thevideo series from Corbett Report and Media Monarchy that covers some of the most important developments in alternative news and open source intelligence. This week Story #1: Confirmed Identity of CIA Official Behind 9/11, Rendition & Torture Background: Who Is Rich Blee? Background: The Eyeopener - 9/11, the CIA & the Art of the Hangout Background: Al-Qaeda Summit in Malaysia Discusses 9/11 and Cole Plots; CIA Has Malaysians Monitor It Story #2: Yahoo Apologizes for Blocking E-mails on Wall Street Protest Related Updates: 'Occupy Wall Street' Protesters Vow To Camp Near Wall St. Indefinitely Fed Will Revive Operation Twist In Hope of Stimulating Recovery Obama Accused of Waging 'Class Warfare' With Millionaire Tax Plan Greek Cabinet to Impose New Austerity Steps 21 Signs That Something Big Is About To Happen In The Financial World Story #3: Wisconsin Judge Says Raw Milk Is No 'Fundamental Right' Download PDF: Judge Fiedler 'Clarification' on Decision Farm to Consumer Legal Defense Fund Related Update: E. Coli Concern Prompts Washington Raw Milk Recall New World Next Week on Archive.org Subscribe to NewWorldNextWeek.com to get hi-quality episodes to download, burn and share. And as always, stay up-to-date by subscribing to the feeds from Corbett Report http and Media Monarchy Thank you. Previous Episode: Solyndra Scandal <b>...</b>
Posted: 22 Sep 2011 01:23 PM PDT
Critics of NATO's intervention in Libya have launched some of their harshest indictments against the international media, and particularly Doha based station Al Jazeera, which positioned itself as the greatest champion of the so-called Arab Spring. The resignation of Al Jazeera director general Wadah Kanfar following the release of Wikileaks cables which expose his links to the CIA is sure to give such critics a sense of vindication. With the channel being seen as the "voice" of the movement against Muammar Gaddafi's Libya, it also raises questions about the potential for Mr Kanfar and the channel's vested interests in NATO's intervention which brought that movement to power.
Schiff: Fed Will Turn To QE3 In Failed Bid To Prevent Economic Depression
Posted: 22 Sep 2011 12:20 PM PDT
Bernanke set to crank up printing presses once again
Operation Twist and Shout: Fed Launches Stealth Attack On Pensions
Posted: 22 Sep 2011 10:33 AM PDT

As predicted, the Federal Reserve has decided to foist QE 3 on America, but instead of naming it after its dismal failure siblings, the non-government agency is calling it "Operation Twist," which is basically twisting the bond yield curve by snatching up longer dated bonds.
...
[Message clipped]